Pavel Banya – a town in the Rose Valley, famous for the lavender, the mineral springs and the Thracian Kings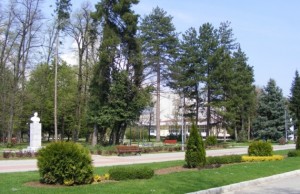 Pavel Banya is a small town in Stara Zagora Province, South-central Bulgaria, located between the towns of Kalofer and Kazanlak. It is the administrative centre of the homonymous Pavel Banya Municipality. The place is famous for its mineral springs. Pavel Banya is located 24 kilometers west of Kazanlak, neighboring Koprinka Dam. The town is situated between the Balkan Mountains and the Sredna Gora Mountain in the Rose Valley, near the Tundzha River. Some archeological finds include the tomb of the Thracian king Sevt III in the Golyama Kosmatka and the tomb of the Thracian king Ostrusha.
Since it is 400 meters above sea level, the small town of Pavel Banya has a continental Mediterranean climate. Pavel Banya enjoys warm summers, with an average of 22 degrees Celsius in July, and colder winters, with an average of 1 degree Celsius in January.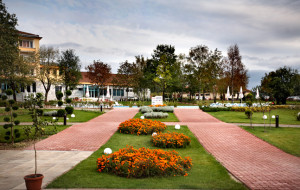 Pavel Banya is a relatively new community. It was founded after Bulgaria was freed from Ottoman rule in 1878. The remains of early Orthodox Christian churches have been discovered, along with Roman baths. It was named after St. Pavel (Paul) and Prince Pavel, the Russian Tsar-Liberator's brother.
Pavel Banya consists mainly of rocky roads and gardens, surrounding a busy and bustling town square. Citizens often ride bicycles, walk around, and shop in the town center. Stray dogs and cats can be found at every corner, though most people take some dogs and cats in as their own, or feed them daily at a certain time. Because the inhabitants of Pavel Banya are not accustomed to Internet devices, children are often seen playing outside.
Tourists can visit numerous cultural, historical and natural sights around Pavel Banya. Part of them can be found in the following list:
The Shipka Monument and Shipka Peak – 13 km

The Thracian Tomb "Goliama Kosmatka" and the golden mask of Sevt III – 12 km

The Thracian Tomb in Kazanlak – 22 km

The museum house of Hristo Botev in Kalofer – 22 km, Vasil Levski's own house in Karlovo – 35 km and the house of Ivan Vazov in Sopot

The Valley of the Thracian Kings

The museum of the Rose in Kazanlak

Historical museum "Iskra" in Kazanlak

The palace of physics in Kazanlak